What is Google Guarantee?
Are you trying to get your business Google Guaranteed? Google Guarantee is a verification service designed to support local businesses by preventing fraudulent services. The Google Guaranteed badge is given to businesses that pass Google's screening and qualification process. The recognizable green and white check mark allows customers to feel confident that they are working with a secure and trusted business. This blog will discuss how to become Google Guaranteed and why your business needs it.
How Does Google Guarantee Work?
If you're wondering if your business qualifies for the Google Guarantee program, one of the first steps is to check eligibility to see if the program is available to you. Once you know you qualify, registering for Google Local Service Ads (LSA) is the first step to becoming Google Guaranteed. Your LSA will display important business information like your address, reviews, contact information, and hours. Then an extensive series of screening processes take place to get your business Google Guaranteed. This process includes background checks, verification of general liability insurance, and checking your business or owner licenses. When you pass the screening process, the program adds a green checkmark "badge" underneath your company's name.
Once you have received your Google Guarantee badge, you want to properly maintain your status to prevent your badge from being revoked. Your business should stay up to date with the proper licenses and insurance, regularly update your Google My Business page, ask for positive reviews, respond to negative reviews, and check for regular updates from Google.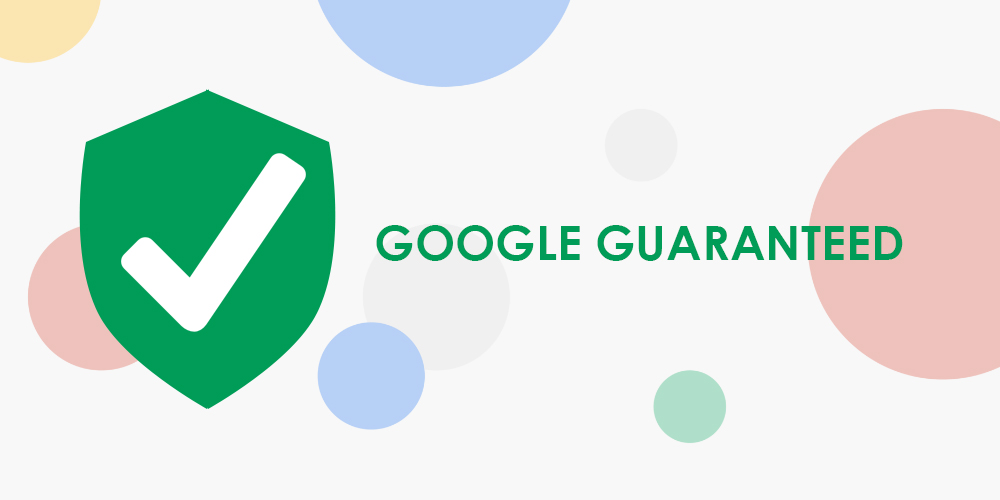 What Industries are Eligible for Google Guarantee?
In the US, the following industries are eligible for Google Guaranteed: Appliance repair, auto glass, auto repair, carpet and upholstery cleaning, electrical, event planning, financial planning, garage door installation, home cleaning, HVAC (heating, ventilation, and air conditioning), junk removal, lawn care, locksmith services, pest control, pet grooming, photography, plumbing, roofing, tree services, water damage restoration, window cleaning, and window repair.
How Much Does Google Guarantee Cost?
The Google Guarantee program does not charge for views or clicks. Businesses just pay for every direct sales lead that comes through the local service ads. Valid leads are texts, emails, voicemails, phone calls, direct messages, or any other communication between your business and your customers. The cost per lead is based on different factors, like the company's location, industry, service, and type of lead. Businesses can set their budget based on the leads they want to get per month.
Google Guarantee was previously limited to only businesses paying for Google Local Service Ads. Now, small businesses not part of the LSA program can be offered a similar type of badging and backing for $50 a month. This monthly charge allows brands to differentiate themselves from local competitors through organic search.
What Are the Benefits of Google Guarantee for Businesses?
In addition to an added trust among users, a Google Guaranteed business warrants many advantages, like lead generation and improved search result rankings. Your business is displayed at the top of the search engine's result page when you use Local Service Ads. Ranking at the top helps you and your business connect with users searching for your company's services. Being featured as one of the first listings and your verified checkmark will increase your leads and conversions. Plus, you only have to pay when the user contacts you directly through the ad, meaning you only pay for useful leads.
What are the Benefits of Google Guarantee for Consumers?
Google Guarantee was developed to help businesses and consumers by providing the best local business listings. Some businesses try to influence result listings by adding fake reviews and ratings to their Google My Business pages. This false advertising draws in potential consumers with the promise of superior services when the quality might be lacking. Verification through Google Guarantee helps small businesses that cannot offer the same level of quality assurance associated with bigger companies display that they are legitimate. Users searching for a specific service will trust a brand that has been vetted and backed by Google more than others.
Besides being one of the most trusted and well-known search engines, users also trust Google Guarantee because of its money-back guarantee. If a user finds a business using Google and is unsatisfied with a service, Google can refund the consumer for the amount they paid up to $2,000. Customers must claim the reimbursement within thirty days of the initial service completion date and provide a service receipt with payment details and the business's name to be eligible. After a claim comes in, Google will contact the business to learn more about the situation and decide on a resolution. Contacting the business allows them to make things right with the unhappy customer and the chance to fix the problem for future customers. The Google Guarantee will only cover claims for services booked through Google Local Services.
If you would like more information on how to set up Google Guarantee for your business, you've come to the right place. At Fotex Labs, we can help you set up marketing solutions that work to help grow your business's online presence to ensure that you are ranking high on search engines. You can count on our expert team to get you where you want to be regarding your online presence. Fotex Labs has been recognized as the Top San Diego SEO Companies by DesignRush. DesignRush offers people the ultimate guide to finding the best professional agencies, categorized by their areas of expertise. We're honored to have been selected by DesignRush as one of the best San Diego SEO companies! To learn more or get in contact, call (858) 228-7697 or click here.